Dallas Halloween Hangover Bar Crawl
October 31 @ 4:00 pm

-

11:00 pm
Happy Halloween Dallas! Witch better have my candy because tonight we are a ghosts with the most!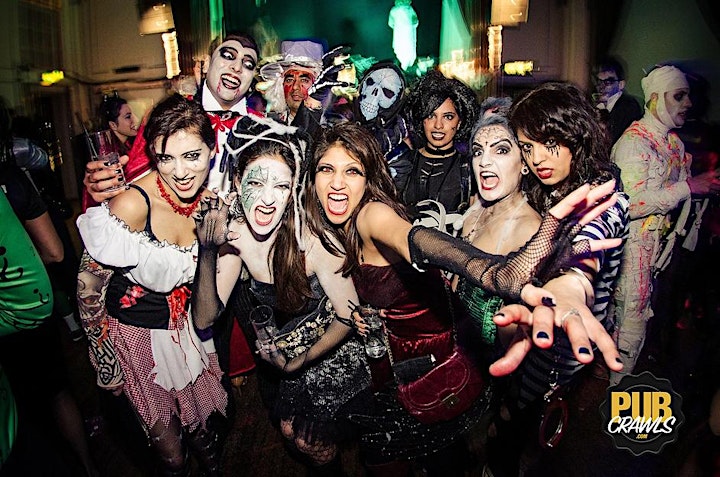 Halloween Hangover Bar Crawl Dallas🎃
PAY ONCE! DRINK, PARTY, & CRAWL ALL 4 DAYS! OCTOBER 21ST, 27TH, 28TH & 31ST!
They say everything is bigger in Texas and this year's Halloween Hangover weekend Bar Crawl in Dallas on October 31st, 2023 has the best drink specials and promotions in all the in Texas. Make sure you bring a friend, you don't want to miss this year's festivities. The time has come for you to throw on your favorite costume and rock out with your friends or meet new people. This year we expect hundreds of Bar crawl enthusiasts to flock into the top bars in Dallas for the best Bar Crawl in all of the world, the Halloween Hangover weekend Bar Crawl on October 31st, 2023.
What To Expect
You will be given a wristband and access to our digital crawl map and you will well be on your way! Everything you need to know is on that digital map. You will be able to see all the best bars in the city of Dallas. As well as the food and or drink specials they are providing.
Important Event Information
Click HERE for more information more about Dallas Events
WHEN:
Tuesday, October 31st, 2023
WHERE:
Dallas, Texas
Costume Contest 🚨
Prizes will be given away at Dallas HALLOWEEN BAR CRAWL!
Be sure to tag @PUBCRAWLERS throughout the night, as we will be hand picking winners and messaging them.
What do we look for to win? Originality. Every winner so far has custom made and designed the creepiest and most ghoulish costumes on the crawl. We are also cool with group costumes, so grab your creepiest friends and get in on the contest and who knows, your group may be able to split the pot.
The Hook Up 🚨
3-4 FREE Drinks (With Multi Day Pass)🍺
Pay Once! Drink, Party, & Crawl All 3 Days! ✅
FREE Entry Into Over 4+ Venues🔥
Exclusive FREE After Party🎊
Digital Bar Crawl Map🗺️
Live Djs At Select Venues🎧
$2,000 Value Halloween Costume Contest👻
Chance To Be Featured On Our Socials📸
Hundreds Of Crawlers🦇
Tasty Themed Holiday Drink Specials🍸
Up To 25% Off Select Foods🍽️
Up To 50% Off Drinks🍻
Door Cover Charges Waived🤑
Photographer & Or Videographer📸
Helpful Pub Crawl Staff On Site! 🤵
Cancellations & Refunds Information
The event is for 21+ only
In the event of cancellation, for any reason, all ticket holders will be contacted.
There is a strict "no refunds" policy
If you are unable to make it to the event, you can receive a credit toward a future event.
Please drink responsibly and never drink and drive!
Questions check out our FAQs page https://pubcrawls.com/faq/
CONTACT US
We have a dedicated customer service team working around the clock to answer all of the inquiries that are sent to our desk around the nation. Whether it's an issue with tickets, or confusion regarding an event, please contact us and we'll gladly tend to every question that you have. We have members of our staff constantly waiting to help, so rest assured that your question will be answered in a timely manner.
Contact Email: Info@pubcrawls.com